If you read our last article, you know that we've been up to something big. If you haven't already, why not get yourself up to date by reading it here. Two weeks ago, we said we were ready for a huge job in Lisbon, providing all aspects of rigging, AV and production support – find out what happened whilst we were onsite in flexispace…
We're pleased to say that the job was a total success, the car park to conference space conversion worked fantastically, and we had many hotel staff wandering in, amazed at the transformation, many saying they'd never seen it look so good. If you hadn't seen the slow transformation through our social media posts, you wouldn't have believed it yourself! Initially, the rig was fairly complicated due to lack of hanging points, power etc, after all this was a garage. We love a good challenge and we came up with a solution which would see us creating conference rooms and circulation areas from truss and drape. Usually, when we use truss we try to hide it, but given the nature of the space we decided to make a feature of it, not only nby leaving most of it exposed but also be lighting it, this approach definitely gave the 'flexispace' an industrial feel, just as we designed.
Day 1 -
We completed the installation of our plenary truss and drape and we carpeted the workshop and catering areas. We also installed our power distribution, firefighting and first aid points.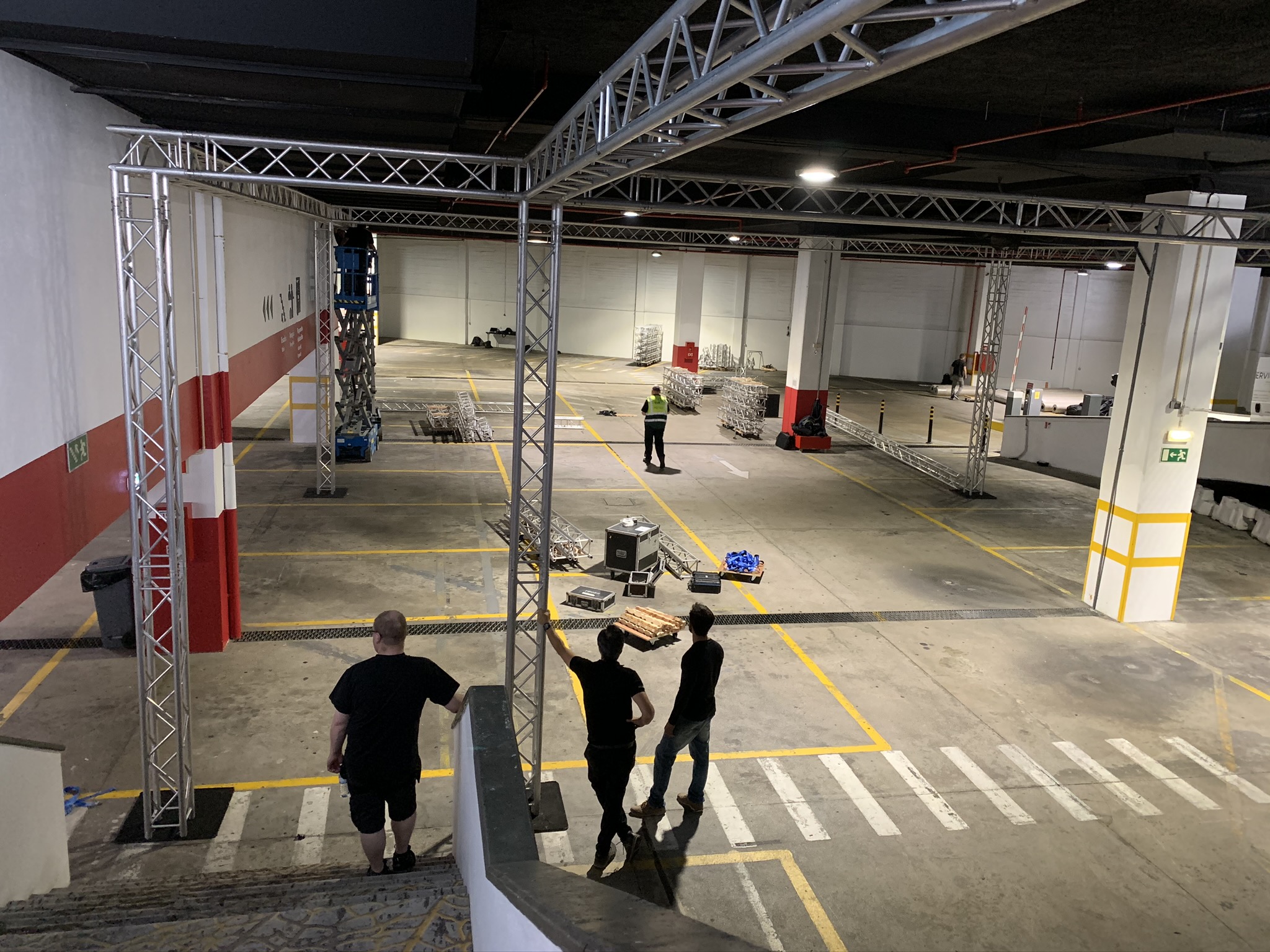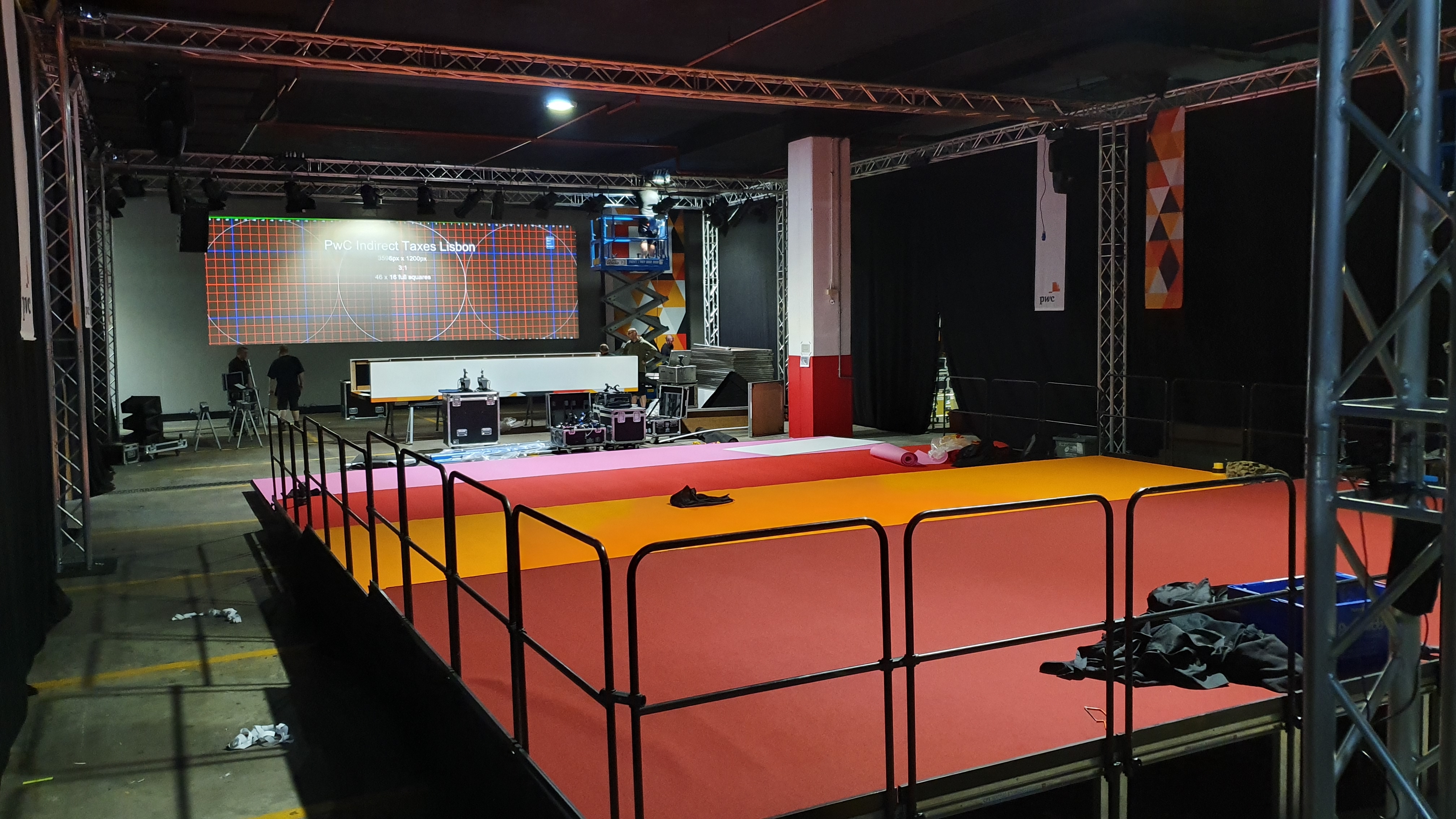 Day 2 -
On day two our crew got to work on the construction of our huge two-column set with a super-wide rear projection screen, when the set was up the next thing was the to build the staging to create our tiered seating area. This was then carpeted in branded colours. We also did the main rig of the sound, lighting & video aspects.
Day 3 -
Day 3 saw the technical rig completed. We also built 8 workshop areas using pipe & drape, all were equipt with a hard panel set & 75" plasma, as these were designed as 3 sided presentation areas, in order to create a dynamic feel to the workshop sessions, each area also had a wireless headset system so the audience could tune in to the presentation. We also set up our digital signage system so that it was easy to see the general timetable and also see what session was currently running in each area and what was coming up next, we used our bespoke Cypher POD system. Finally, we finished installing the last bit of carpeting in the walkways and general areas as well as putting 300+ chairs onto the tiered seating, and 300+ chairs into the workshop areas.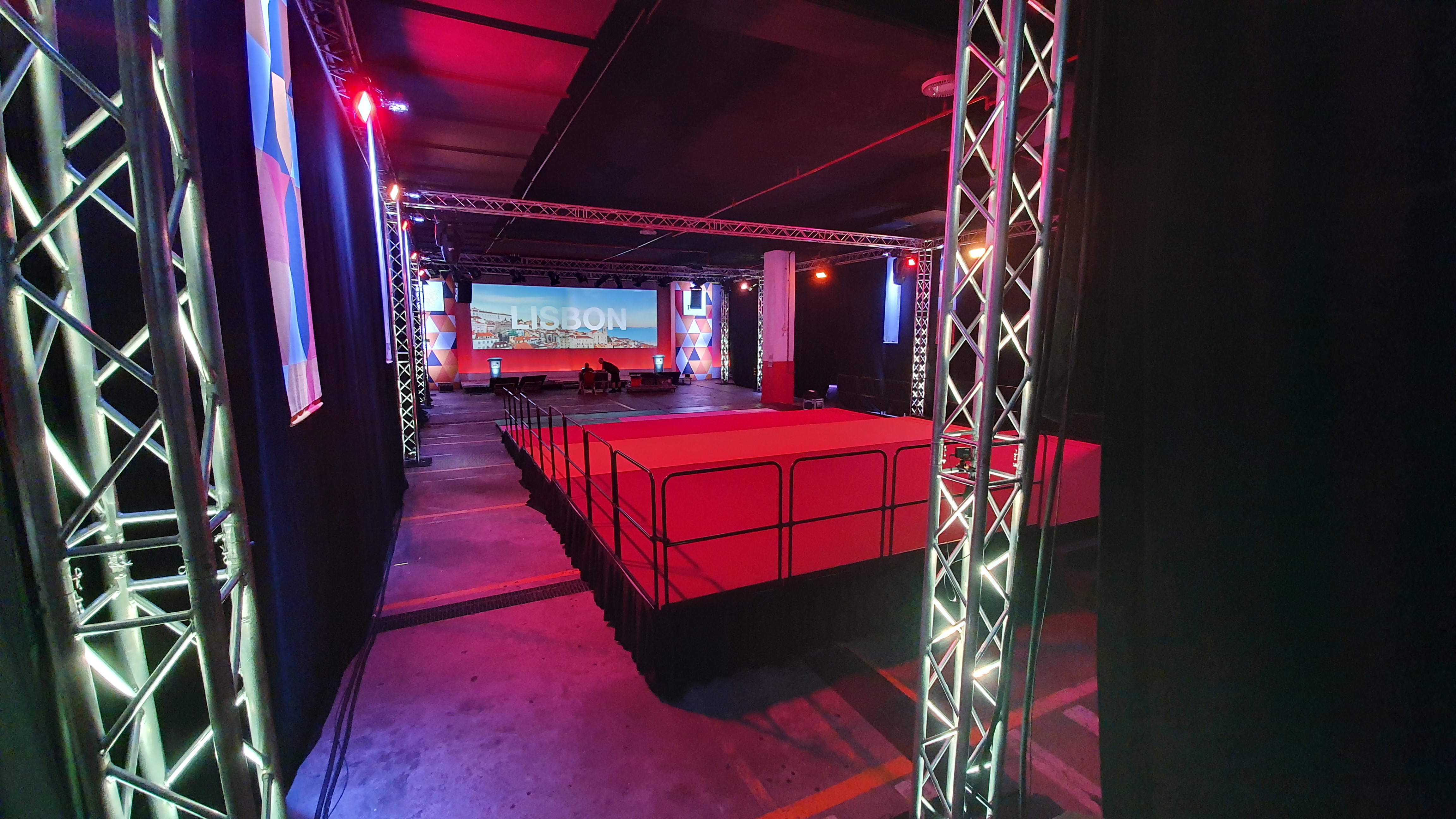 We had a huge crew of 31 with us this time around, as well as a local crew helping with setting up the truss and loading / unloading our x2 artic lorries plus the local vehicles bringing in the truss, drape and carpet. The whole team worked amazingly, working around the clock to ensure that this build looked as good as we imagined. You can watch the whole process by clicking the video below.
Our clients were extremely happy with the outcome. If you require any event support, which includes filming, management, building etc, please do not hesitate to contact us via our website, or alternatively through our social media platforms Facebook, Twitter & LinkedIn.