When everything is virtual, it can be tough to produce videos the way you want them. The Cypher team have been busy recording presenters and presentations through virtual meeting tools, such as Zoom. Google Meet, WebEx, etc. and editing them into branded video packages. Read more about the benefits and how this can be achieved.
Setting-up
We have a range of equipment set-up in our offices to facilitate the recording process. We can record one or multiple presenters at once, with and without slide presentations. Our recording set-up allows us to simultaneously record incoming full-screen webcam and slide videos as well as audio in as high a quality as possible. Our team are also available for pre-recording technical checks, to ensure that anyone being recorded is well briefed and their audio/video equipment is set up in the best way possible.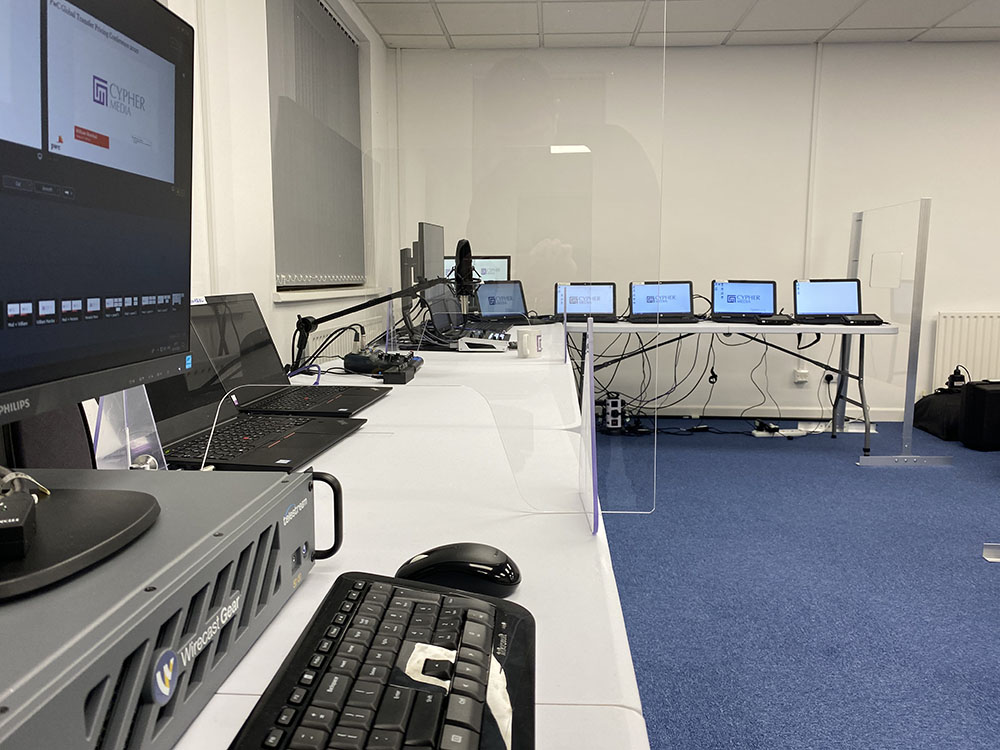 Recording
During the recording, a member of our production team will also be on the call to direct the process. We will ensure that the presenter is positioned correctly in the frame and that both lighting and audio is the best it can be. Because this is not being sent out live to an audience, the presenters have the ability to pause and re-take any parts of their recording that they are not happy with - much like in a real face-to-face recording environment. Our production team will continuously monitor the recording to ensure that there are no video and audio glitches, which are common in internet-based video calls.
Editing
Once we have all of the footage, we can begin the editing process. Because we have separate recordings of everything, we can edit the video in any way that is required - this means that the finished video will not have any indication that it was recorded on virtual-meeting software, such as Zoom, WebEx or Google Meet, etc. Any pauses, mistakes or edits can be made to the finished video so it flows smoothly. Once finalised, the recordings can be used as required. For example, you may want to use them as pre-recorded videos for your next live stream, or make them available on-demand for your audience to watch.
The benefits
One reason many of our clients have decided to do this is so they can pre-record presentations to be used during a live stream. This takes the pressure off presenters during a live stream, as they can be confident that the information that is being delivered clearly and the content is the best it can be. Many of our clients have opted to have pre-recorded versions of presentations played during a livestream, followed by live Q&A with the presenters.
Remote recording, also means you can continue to record and deliver your key messages at times when travel and face-to-face interaction is restricted.
Producing videos in this way is also extremely cost-effective.
If you'd like to learn more about how we can provide assistance for your virtual recordings and virtual events, don't hesitate to contact us to discuss the best option for you.