The month of June was a busy one for the team, which included full AV and event support for a Global Financial Services Tax Leaders meeting being hosted at the Riu Plaza Espana in Madrid.
The Rig
This was definitely one of our most challenging rigs. The new hotel was formerly a set of office blocks that have now been converted into a modern hotel, however this came with many logistical issues. Parking our two artic lorries was our first challenge, as there was no dedicated loading bay that could take the size of the trucks. The conference room was on the 4th floor of the hotel, with only a small lift to gain access. This meant having to reduce the size of our set panels so we could get them in to the room, then joining these smaller panels onsite. The temperate was in the mid to high 30 degrees Celsius so the unload was definitely a challenge.
The Main Room
Another challenge with this meeting space was the room itself. A very long and narrow space meant we had to push the set/stage as far back as possible. All initial planning and drawings of the room had the layout set as theatre style to get the number of seats in the room, however after a bit of on-site magic we managed to squeeze in tables and get delegates seated cabaret style, which is always the preferred option. Take a look at our 3D graphic below which illustrates this.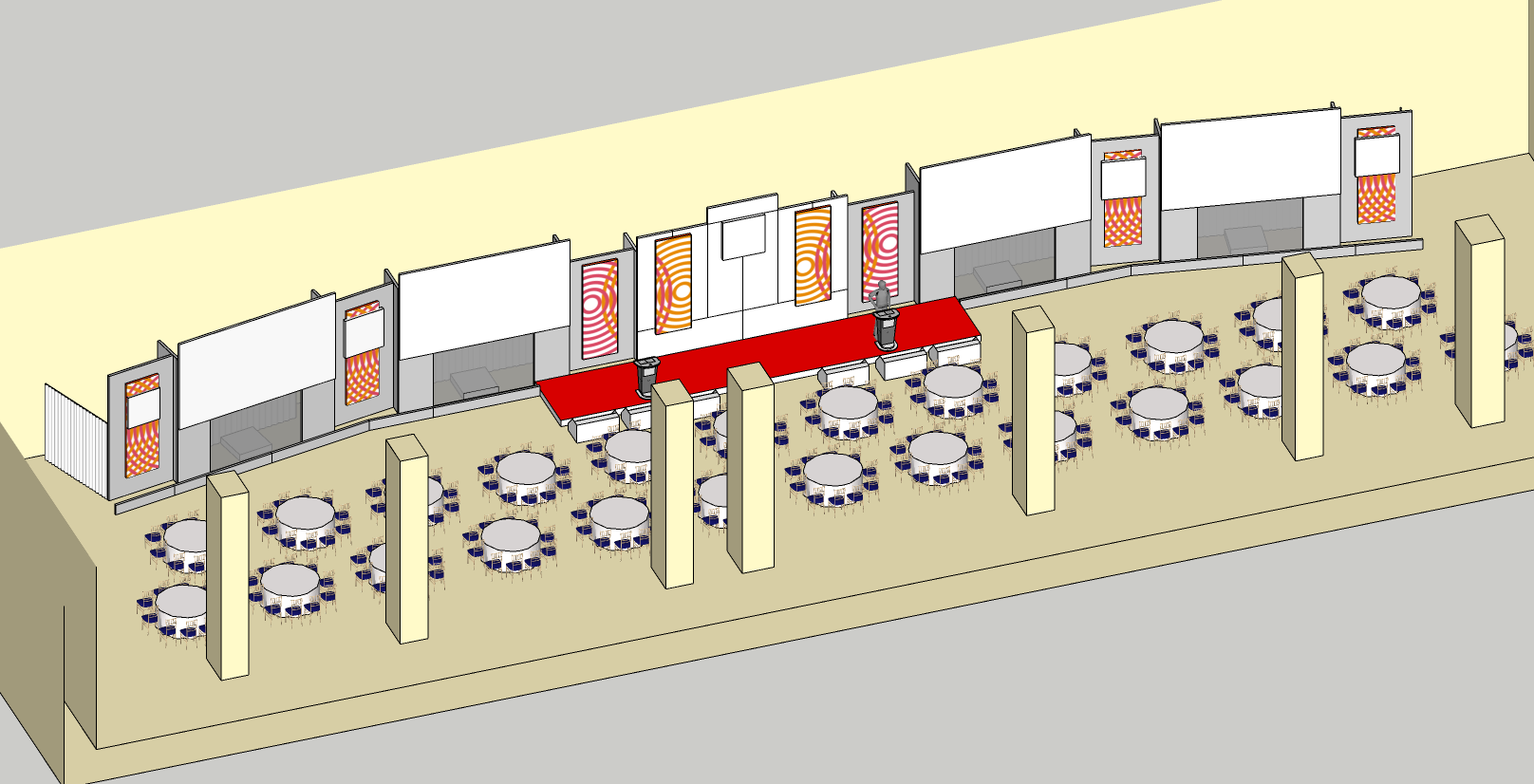 Breakout Rooms
This event also featured several breakout rooms, each requiring their own AV equipment and technician. Depending on the size of the room, we either built large sets or utilised large OLED screens positioned around the room.
General Areas
Branding is key across all of the events we produce for our clients. For this event we designed and constructed a custom sized registration desk with printed backdrop, as well as printing 20 banners to be placed around the event space. Signage was also printed and placed around the venue to assist the movement of delegates between meeting rooms.